The 3 Most Surprising Weight Loss Mistakes Made in Livermore Are Revealed by the Area's Top Personal Trainer
If you're like many other residents of Northern California, you try to eat right and exercise, yet you still do not see any huge drop in pounds. So what is keeping you from your ideal weight and ultimate fitness goals?
Hi, I'm Mark Rogers, the
most referred in-home personal trainer in Pleasanton and Livermore
, and owner of the
Mark Rogers Fitness Tri-Valley weight loss program
. I think it's important for you to know about the most common mistakes that people just like you are making when trying to lose weight. In fact, avoiding these mistakes could be the only thing preventing you from having the body of your dreams.
Mistake #1
Not drinking enough water.
Your body needs water to maintain a high level of efficiency and to keep your metabolism up. Why is this important? Because with a low metabolism, you cannot burn calories or fat, and you will continue to gain more and more weight. Another benefit of drinking water is that it is a much better alternative to sodas that have a high caloric and sugar content. So, when you are trying to lose weight,
water is definitely an ally
you want to have on your side.
Mistake #2
Not getting enough sleep.
Everyone knows that sleep is vital to staying healthy and having energy. But for anyone who exercises or is overweight, sleep becomes
twice
as important. Higher insulin and glucose levels result in more fat being stored, and the best way to keep those levels down is to get a solid
8 hours of sleep
each night. Also, try to be consistent and sleep at the same time. This will help your body stay in the healthiest state possible and help it deal with fat more effectively. It will also keep you from being extremely tired and word out all the time, which is good for your exercise routines.
Mistake #3
Starving or skipping meals.
Whatever you do,
never starve yourself
. The weight you lose will come back much faster and your body will end up stealing the nutrients it needs from muscles. This is counter-productive for a number of reasons when you want weight loss. If your body is not receiving correct nutrition, it will not function properly, especially as it relates to burning fat. Fat will be
stored instead of burned
, which is the opposite of what you want to happen when trying to lose weight.
Knowing your body's fat levels and having a plan that works to
increase metabolism
is the most effective way to start becoming trim and healthy. With Results Personal Training, I take the time to do
extensive body fat testing
with all of the clients who are in my weight loss program. Then, I develop a
customized nutrition plan
that is easy to follow and stick with. That means
no more hunger
while enabling your body to perform at optimum levels.
In addition to proper sleep, water, and nutrition, proper exercise is by far the
fastest way to lose weight and keep it off
. Doing the
right exercises
in a certain order is the difference between slow, unpredictable results and fast,
record breaking weight loss
. My exclusive Blazin' Bodies Boot Camp and Results Personal Training has helped
hundreds of people
in the Livermore area reach their dream weight in dramatic fashion. Here are some of their stories: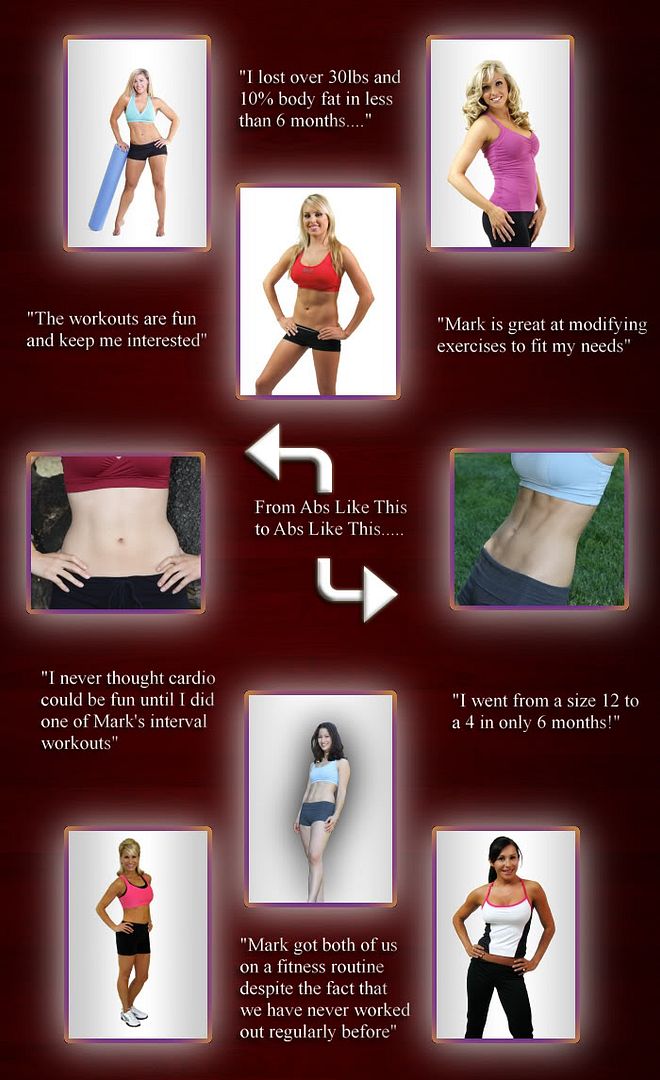 *
Note:
Due to the massive success of the weight loss program, Mark Rogers Fitness Personal Training is only available on a
limited basis
in Livermore, so please contact Mark now at
(925) 931-1120
to make sure that you reserve a
free consultation
. Or, you can
sign up for the Free Newsletter
to the right and be entered to win a free personal training session. It contains the most helpful and factual fitness, nutrition, and wellness tips available anywhere.
If you are in the area you should check out my
Pleasanton weight loss program
.
Mark Rogers Fitness is serving Livermore, California, Including 94550, 94551
________________________________________________________________________
Mark Rogers Fitness is proud to offer its exclusive programs all across the Tri-Valley and Northern California. Just click on your area for more information.