Livermore Residents Have Spoken: The Number 1 Boot Camp in the Area is…
When asked which boot camp training program delivered the fastest results, the residents of Livermore unanimously chose Mark Rogers and the Blazin' Bodies Boot Camp in a recent survey.
Hello, I'm Mark Rogers, and I am honored to be considered the most respected trainer in the local area. The truth is that a lot of things have contributed to making my Blazin' Bodies Boot Camp so successful.
First
, I set out to design a program that was not at all like the typical Livermore boot camp. Why? Because simply put, most of the other bootcamps in the area just do not work. My goal has always been to help people get into the best shape of their lives as
fast
as possible.
Next
, I knew that a lot of people had become frustrated because of all the supplements and equipment they have purchased. These products promised results, but never delivered. It is natural for people to get discouraged after being disappointed by so many false promises, and unfortunately, that also means that many people are giving up on their fitness goals. This is what inspires me to
get the truth out
about fitness.
The one thing most places don't want you to know is that anyone can lose weight and transform their body.
It doesn't matter what you have tried before, or what your fitness level is now. You can do it. Trust me, I have seen it happen, I even struggled with the problem of being underweight (which by the way is just as difficult to overcome) and resorting to everything under the sun to gain healthy weight.
What I figured out was that it isn't about how much time you spend working out, it is about having the right information and then acting on it.
Let me explain. Boot camps are effective because they feature certain
key exercises
performed one right after the other, keeping the body working, and causing your muscles to respond. Since the program is done at a
high level of intensity
, it is short, which means that it can be worked into even the busiest lifestyle.
The secret to the Blazin' Bodies Boot Camp is the combination of cardio, weight, and core training.
It is also extremely fun and motivating; two very big factors in any successful program. However, working out alone is not enough to lose weight in record time. You also need a solid diet. So, I
customize a nutrition plan
for every single person that signs up for my bootcamp program.
Finally, I wanted to make the entire experience of getting into shape as comfortable as possible.
The best way to do that is to take away any of the doubt or concern, and
guarantee success
for anyone who is serious about getting their dream body. Therefore, the
Blazin' Bodies Boot Camp
comes with the following
Body Fit For Life Guarantee
:
If after completing the Blazin' Bodies Boot Camp program, you ever gain any weight, you can come back and train for free.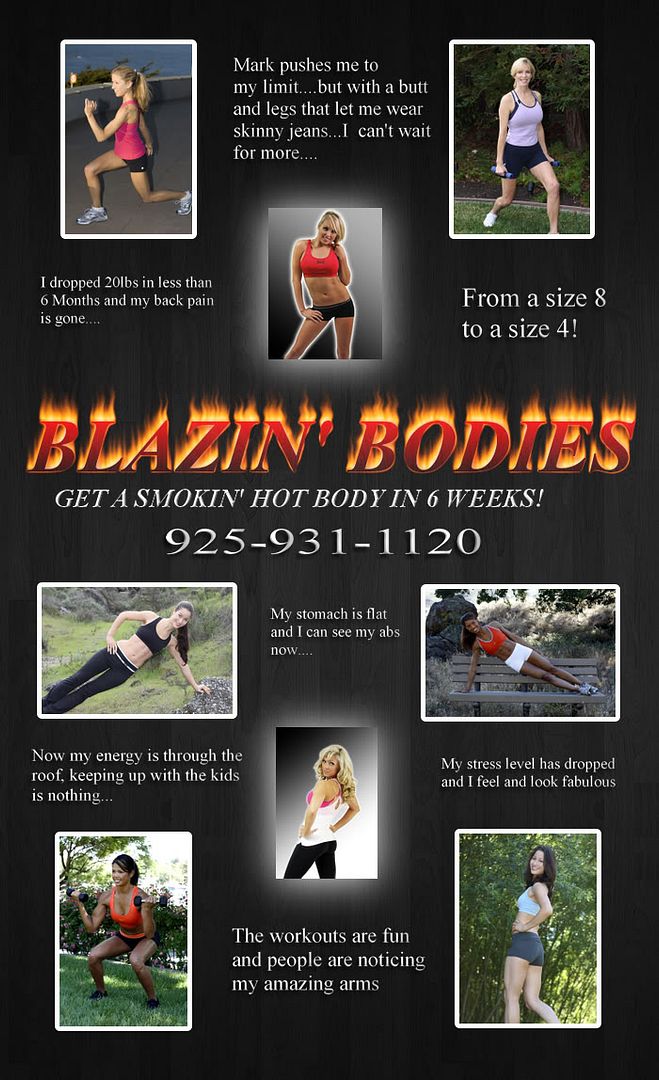 I know that might seem bold to some people, especially since I am the
only trainer
in Livermore that has that strong of a guarantee. But the truth is that my boot camp is chosen again and again by people
because it works
. And I don't want to just help you lose weight temporarily; I want to help you maintain your ideal physique for the
rest of your life
. That's the main difference between my program and all of the other boot camps in Livermore.
If you are ready to meet the new you and become
toned and sculpted
, while having
more energy
, please contact me as soon as possible. The high demand for the Blazin' Bodies Boot Camp is making reservations limited, so if you are serious,
now is the time to call me at (925) 931-1120
.
If you would like more information or details about the exclusive
Blazin' Bodies Boot Camp
:
Pleasanton Boot Camp
Dublin Fitness Boot Camp
Pleasanton Personal Trainer
The Blazin' Bodies Boot Camp serving Livermore, Including 94550, 94551
________________________________________________________________________
Mark Rogers Fitness Personal Training is proud to offer its exclusive boot camps all across the Tri-Valley and Northern California. Just click on your area for more information.